Win Limited Edition Make-up by ONE DIRECTION before it's available to the public! Winners will receive a Make-up by ONE DIRECTION limited-edition collection of beauty essentials, housed in a collectible keepsake tin. Inside is everything you need to rock all your beauty looks on or off the stage. One of the 3 available collections (Midnight Memories, Take Me Home, or Up all Night) will be sent. Check out the official rules to see if you're eligible. Winners will be selected at random. Filling out the form below gives the brand consent to contact you about winning, announcements, and other promotions. No Purchase Necessary.
  When Niall tweeted this picture (Below) with the caption : "Just had a great meeting about 1D make up! it's that good im gona start wearing it myself ." The 1D fandom wanted more info about the line. 
   Well listen up because more information is finally  here!
The line is being released by Mark Wins(Click on the link to learn more about them -http://www.markwinsbeauty.com )  
  Release Dates 
US RELEASE DATES:
Macy's - August 11th
Stage Stores – August 25th
Dillards – August 25th
Beauty Brands – August 25th
Lord and Taylor - August 25th

*International release dates TBD
   If the products aren't available near you, or you  spent all your money on concert tickets don't worry, because here is your chance to win one of these makeup sets.
   Click on the title of this post and it will take you to the entry page.   You will be asked to enter your  email, like the FB page, & post to Twitter. Additional entries can be earned by referring friends, pinning on pinterest, or liking the Twitter page. The more entries the higher the chance of winning. Up to 50 limited edition makeup sets will be given away. Winners will be picked at random and announced by August 5th.
  Best of luck to all of you!!!!
  And for more info about the collection checkout the lines Face Book page -http://www.facebook.com/MakeupbyOneDirection
   If you win which set would you want? Who is your favorite 1D guy? Will you be buying anything from the line? Are you going to see them on tour?
   I would love to read your thoughts below or tweet them to me @princesslondn and don't forget to follow me on here and on Twitter if you like my posts. 
(disclaimer : This post is sponsored by MarkWins in affiliation with Brand Backer. So I take no responsibility in any way for how the winners of this are chosen or what may result from winning or not winning. Or entering the contest. )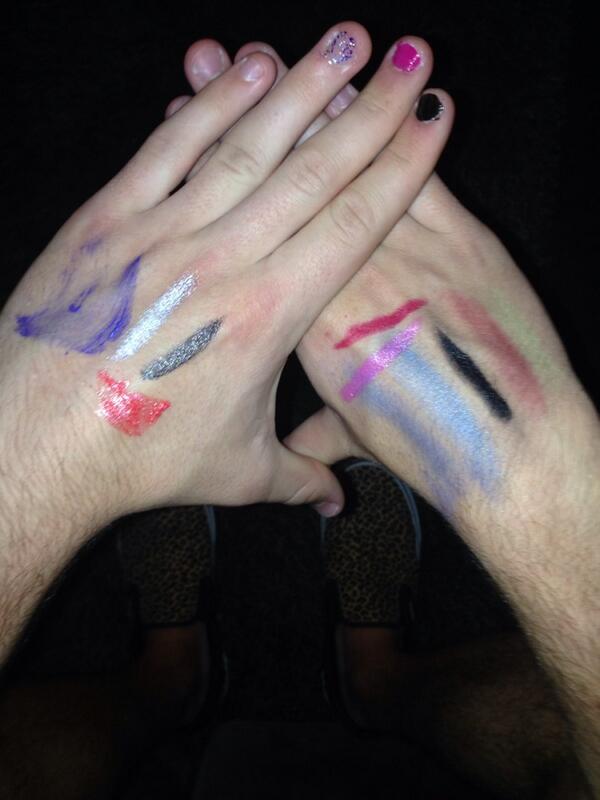 PhotoCredit: @NiallOfficial/Twitter 
 What do you think of these tin designs?